New MIDNITE & I GRADE album BEAUTY FOR ASHES out now!
26 February 2014
Wow! This is a straight up classic! Im telling you people. I dont say this quickly when it comes to Midnite, but i think they both surpass themselves on this one, really.
Check it out for yourself and listen to the album snippet below! You can download it HERE on I-tunes.

Bless & Love!
Stijn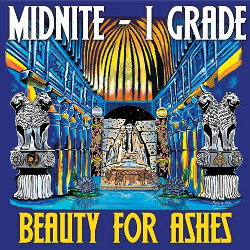 midnite-culture.com
Welcome to the realm of
the Almighty King!
Please take a breath, relax yourself and take a good look around.
Dont forget to leave your mark in the 'Visitor World Map' section!

Enjoy your stay!
RastafarI Love!
Most recent forum threads
Sir James
22 March 2021, 18:47:04
New Release : Vaughn Benjamin Take Your Time
No replies
DaveySun

United States
Haiku Maui
26 October 2020, 03:01:50
Midnite Eugene 2004
1 reply
Elishamr
06 November 2019, 11:27:20
Rest in power
1 reply
juu

United States
New Orleans
11 May 2017, 23:29:13
Name Of Dread Covering Crown?
1 reply
ommm

Ireland
23 December 2016, 00:11:42
glory and majesty
1 reply